Practicing Our Lines – A super fun SE Languaging workshop
"If you want to get to get good at something…play with it!" – Anthony Twig Wheeler
2 Days of social engagement, games and insight to help you gain your clients' participation and trust.
Totally novel. Totally useful. Totally fun.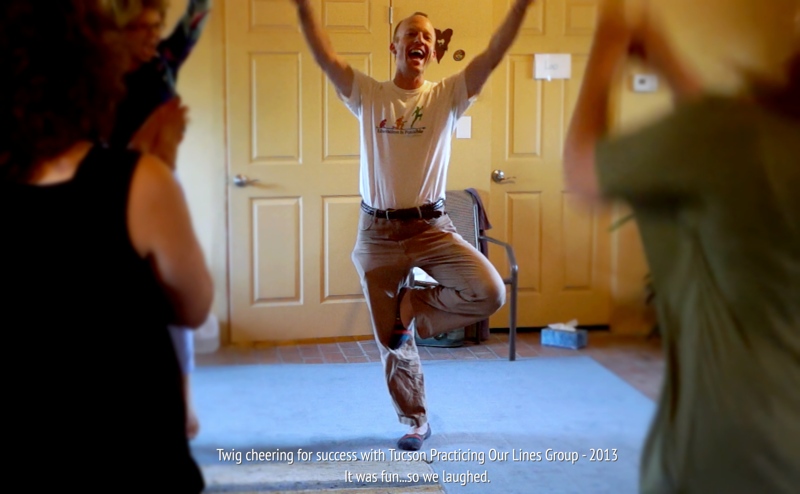 These Practicing Our Lines events are full of movement and high energy goodness.
Enhance your confidence, competence and conveyance when communicating Somatic Experiencing style – All while playing games!
If you answer yes to these 3 questions than I offer you my liveliest workshop:
Are you an SE student or practitioner?
Is it time for some levity in your SE studies?
Would more spontaneity with your client's help move things along?
If that's you then welcome to the funnest thing I've got going…
What SEP's Have Said:
"Twig is a master of the nervous system and a master of play! His workshops should definitely be a program requirement." – Erica Gaeta, 2014 Participant
"Twig is a great teacher with a lot of knowledge, it was a fun and inspiring weekend! A clever way to learn SE speak!"
– Dr. Shirley Impellizzeri, 2013 Participant
More SEP Praise for Fun Learning:
"Twig uses some basic improv theatre structures to deepen the understanding of SE in a fun, disarming way. While it is fun, it is a masterful way to translate some of the foundational aspects of SE in a thorough, comprehensive and very well organized manner. After over 3 decades of practicing as a therapist and a number of years training in SE, I found Twig's work very useful in enlivening my clinical work."

– Jean Esther, 2014 Participant
"I really enjoyed the spirit in which this workshop was offered. I left feeling re-connected to SE in a positive and non-hierarchical kind of way and appreciate the practical suggestions for continuing to grow in an SE kind of way. Thanks!" t

– Andrea Epstien, 2014 Participan
I thought we were studying trauma?
Well we're studying how to help things move forward into what happens next. For that we need to recover and develop spontaneity. Which is exactly what the stuckness of trauma needs to get moving again. Then a well-informed practitioner can help guide the previously incomplete stress response to completion. Without that momentum and the sense of safety that allows for spontaneity…ain't nothing new gonna happen.
What I did:
I stepped out of the SE world to study spontaneous communication in the funnest environment possible – Comedy Improv Theater. Then I adapted dozens of games used there for us to explore critically helpful elements of our SE communications. Things like: conveyance, rhythm, posture, mirroring, tone, spontaneity, and all that stuff. Finally I started giving this completely unexpected weekend workshops where we play, learn and expand the range of our communication with clients. Everyone tells me the class is not only super fun but super helpful. I believe them.
What you can do:
Join in, have fun, learn a ton, go back home feeling lighter and more empowered to talk with clients at every point along the resiliency spectrum [uh, oops, I guess they call that the Trauma Spectrum].
This is a Chance to Engage Together:
"It was fun, invigorating and I would love to do more, such good in depth work on how to meet clients where they are at, framed with such fun games an awesome container."

– Jeremy Hulley, 2015 Participant
"Practicing Our Lines reinforced the attentive part of myself, and helped be more naturally interested in my client. It's been over a year since the class and as I feel more connected with my clients through I'm still reminded regularly of how valuable the exercises were. Twig is a brilliant, uplifting, respectful teacher who makes emotional safety the number one priority in this class. If you are a therapist and you think it's important to be able to resonate with clients, but improv seems daunting in a guaranteed safe environment, you may want to look at that, lol!"

– Rick Hupp, 2013 and 2014 Participant
What to Expect:
What we'll do together:
Step sideways of the classic didactic and triad SE workshop to play games that will liberate us from any over-concentration on the big heavy (i.e. traumatology). This will help us explore our communication patterns, enhance our sense of liveliness and give us an opportunity to look back at various SE principles that will then stand out like a golden shinning star that we'll all look at, gasp and go collectively exclaim: "Ah…isn't that beautiful!" Yes we will. And yes it is!Meanwhile we'll be literally "practicing our lines". You know those ones we say over-and-over again in session-after-session and which we need to say "as if for the first time, every time." Primed and practiced, your interventions will flow with more ease and originality upon your return to work. Or at least, that should be our expectation – yours and mine.
You should know:
You don't have to be funny to take this class. You don't have to be an actor or an actress. You'll never be put on the spot. It's nothing like that. It's just going to be fun and helpful, that's how I like it and that's how we'll make it.This program has been presented in the US, Brazil and Japan. It's always being improved and refined while remaining original each and every time. It started out strong and is only getting better.
It's a Good Time:
"I haven't laughed that much in years."

– Zat Healer, 2013 and 2015 Participant
"Awesome! Fun and meaningful too!"

-Nancy J. Bates, 2015 Participant
Workshop Preparation
To make full use of this workshop participants will be asked to purchase Twig's Guide to the SE Language and review 14 short video chapters from that program totaling 2 hours of viewing time. These lessons, on subjects like "Preempting the Red/Trauma Vortex" and why SEP's want to adjust our requests based on our client's Relative Resiliency, will help us be able to practice more during our weekend together with some shared ideas between us.The program is priced for accessibility at a $1+ Pay What You Will pricing, so no-one will be turned away for lack of funds. This review will only help and the remaining chapters of the Language Guide will likely be of great interest as well. A list of the review chapters will be offered upon registration for the Practicing Our Lines workshop.
Next Opportunity to Practice Our Lines with Twig
Currently Planned workshops:
Practicing Our Lines workshops happen because of local invitation and coordination. Help bring Twig to your community.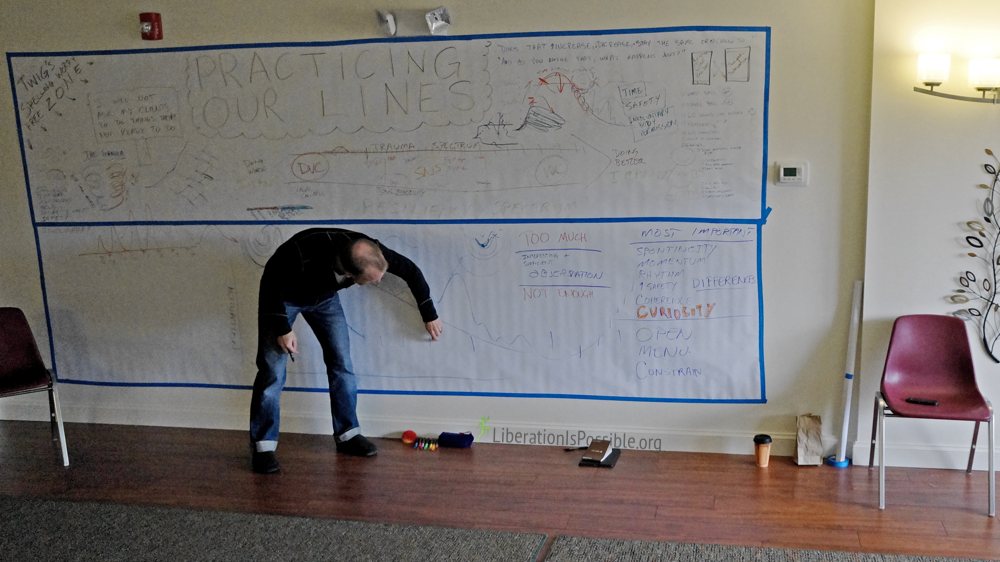 There's even a bunch of helpful learning included. That makes all the fun super interesting.
The "Didactic" Content in Practicing Our Lines is highly detailed and well laid out in Twig's Guide to the SE Language, available for independent study online.