So That You Know… A long ago promised and still necessary…
This is a perfect time to invest in your SE work and help improve the offerings on SE-Reflections.com.
An online course created by Twig specifically for Somatic Experiencing® Students and Practitioners
Where to Start – How to Proceed
A sequential perspective on guiding clients into successful SE sessions
Many SEP's finish their official SE® training only to review their expanded knowledge and therapeutic skills with a worrying wonder:
"Yes, but where do I start with my clients?"
or…
"Why does this work at the training and not in my office?"
As an SE Practitioner Consultant and heavily invested SE advocate, I have a perspective on these issues and have shared it for many years in my live workshop "Where to Start" (Originally titled, "Positive Deviancy SE").
Now I've collected my best thinking on the challenge of applying SE in the real world and present it in this to the point online course.
One of my strongest observations is that SE Practitioners grow to suffer "the curse of knowledge."
By the time we finish the training we are fully steeped in the language, rationale and procedure of Somatic Experiencing style sessions. This is true for our colleagues and classmates with whom we practice our craft – all of us become highly informed clients.
This makes it surprisingly difficult to figure out how to help our real world clients join in and participate in the SE process.
That's largely because we need to translate the salient parts of the SE training for our uninformed and inexperienced clients and we often miss vital steps in helping them understand and cultivate their investment.
Indeed, the "magic session," the one where everything flows and things feel as though "it just wanted to happen" – or something like that – is far more likely to happen with experienced, informed, participatory clients.
And far less likely with doubtful, untrusting and uninterested clients, which of course many real world clients are.
This course was created for SE students and practitioners who want a thorough understanding of what their clients need in order to participate and for everyone in the room to feel successful.
To get there a step by step sequence for guiding clients toward sufficient understanding and active participation is offered, with the intention of ultimately supporting the more organic "magic session" – which is already out there, waiting to happen.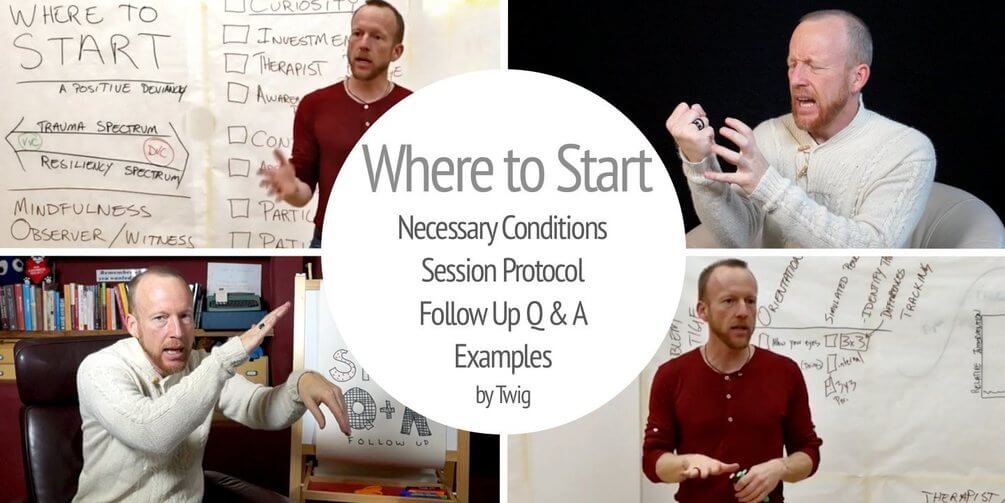 What others have said about Twig's Where to Start Project:
"This is a must see for all beginning SEP's in private practice. It adds structure and focus on how to begin your work with clients!" Jan Bergstrom
Massachusetts based SEP
"This is an awesome practical framework to help organize all we've learned over the last 3 years. For me it fills a big gap, which is how to ensure a client's skills are being developed along the way." Scott Woerner, Phd
SEP
"It was awesome and illuminating..it filled out a few missing pieces not covered in my SE Training. Thanks twig…" Noel Haarburger
SEP
"As usual, Twig's thorough coverage of the material and accessible presentation style builds upon the skills I learned in the trainings. Being able to review the information in a different format to the formal training is invaluable. I get so much more from the training modules, and I feel confident putting my professional development in Twig's safe hands." Raquel Dubois
Australia based SEP
Online videos and curated lessons included in the Where to Start Program
Part 1 and 2 of Twig's Where to Start presentation – 3hrs
Q&A Follow Up for Where to Start – 2hrs
Examples from the 10-Session Protocol – 1hr 45min
10-minute Clarity Review – 15min
Final Thoughts on Contracts and Protocols – 45min
13 Related Chapters from Twig's Guide to the SE Language – 2hrs
7 Related Episodes from Twig's SE Reflections Podcast – 5hrs
Additional material to come as more participants join in…you can be one of them.
Continuing Development Period January-March, 2020.
This program had a major bit of work added in the first 3 months of 2019 but is still wanting a touch more attention…
Between January – March, 2020 I'll be attending to a few lingering details…
Adding new materials on SE in Groups as well as…
Offering 2x month online meetings to answer and converse on outstanding questions or themes.
Money Back Guarantee
Spending money online is challenging. I want to make this an easy decision for you.
If you get into this program and decide you don't like it – for whatever reason…simply get in touch in a reasonable amount of time and receive a full refund, no worries at all.
This was created to help you as an SE Practitioner. If it doesn't do that, you don't need to pay for it.
---
---
Purchase the Where to Start Program Here
(Little Note: A price increase for this program has been in the works for some time but was stalled by the pandemic. I will now be increasing the purchase fee in June 2023, this will support additional development on the Where to Start Program.)
Where to Start Program
Lifetime access to the entire Where to Start program and opportunity to participate in any future group meetings focused on these subjects.
$200
Free
3-Day Trial
Access to the Where to Start Program for Free for 3-Days at a time during the Coronavirus Pandemic.
This is typically a 1-day trail for folks who are considering purchasing the program. You can use it here for your learning for free and decide to join in as a paid supporter when and if you like.
$0
Where to Start Program Syllabus
Do you have a question about Twig's Where to Start program and whether it is appropriate for you?