Podcast: Play in new window | Download
What can an SEP do when a "Natural Disaster" comes to their backyard? It's happened to a lot of us already, it will surely happen to more in the years to come. Here's some background on what I did when the largest wildfire in Washington State History, the Carlton Complex, started 5 minutes walk from my home in July, 2014 along with what I was able to offer my community as things started to cool down. I hope this will encourage other SEP's to think proactively about such things for the future.
Encourage the Re-Release of the StressLess Recordings – There's no Fee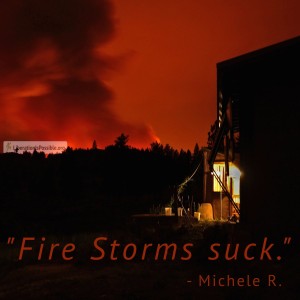 After my home and neighbors were out of danger I went to town to see how I might be of service. Amongst the roles I was able to offer was a series of audio recordings for the local radio station that aired for a few months following the blaze. There were 19 in all touching on subjects from the dangers of lingering in the stress response, the importance of social contact in times of danger and why parents need extra support during community disasters. All of these recordings are still available through Kroot 97.5 – which Rocks! You can see those here: First StressLess Recording | Second StressLess Recordings.
Also you'll hear a few samples below. 
I'm happy to re-release these recordings to a wider audience for free, but I'll ask at least 20 people to encourage me to do it  before I put in the many hours necessary to make these recordings available as a free download on www.liberationispossible.org. If you're into that, please sign up below.
StressLess Samples:
Here are 2 samples from the StressLess Short on the radio. They were made for a particular moment and situation but it may be useful to listen to.